After nothing short of a landmark year for the trio, BUSTED will be making their triumphant return to the July Course on Friday 19th July and their debut at Haydock Park Racecourse on Saturday 20th July.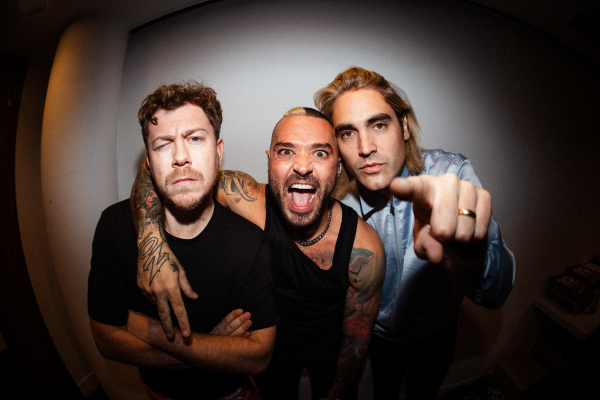 Impossible though it may seem, it's been twenty years since BUSTED bounced into the charts with the irrepressible pop-punk energy of their debut single 'What I Go To School For'. It kickstarted a succession of hits for the band, including the #1 smashes 'Crashed The Wedding', 'Who's David', 'Thunderbirds Are Go', 'You Said No' and the Top 3 singles 'Year 3000', 'Air Hostess' and 'Sleeping With The Light On'
Finally adding a #1 album to their chart achievements last month – three of their five studio albums peaked at #2 – Charlie Simpson, Matt Willis and James Bourne are truly back and stronger than ever. Their recently concluded 26-date 20th anniversary tour became the biggest UK arena tour of 2023 and saw the band play to over 200,000 fans. They will continue their celebrations at Haydock Park next Summer.
Sophie Able, General Manager of Newmarket Racecourses, said
"Busted last headlined Newmarket Nights back in 2016 and they've been long overdue a return visit. From Charlie winning The Masked Singer at the start of the year to the band finally clinching their first number one album, 2023 has truly been theirs. We can't wait to welcome them back amongst a stellar line-up next year. Newmarket Nights has always been about delivering world class entertainment to create lasting memories for our visitors, and 2024 is set to be an exciting year to remember."
Molly Dingwall, General Manager, Haydock Park Racecourse said
"We can't wait for Busted to make their debut at Haydock Park on Saturday 20th July. Their huge greatest hits tour has delighted fans across the country this year and bringing the show to the course will be an unmissable night."
Busted said
"We had an unbelievable time on our anniversary tour this year and can't wait to continue celebrations in the summer! Outdoor shows are some of our absolute favourites, and we're looking forward to seeing you all in the glorious sunshine."
The Jockey Club Live events are renowned for combining an electric evening at the races with a spectacular concert, in an informal and relaxed open-air setting. Returning for 2024, the concerts continue to welcome some of the nation's biggest music talents to historic racecourses across the country, with recent headliners including Bastille, Anne-Marie, Olly Murs, Tom Jones and The Script. In addition to world-class live music, the events provide a selection of culinary delights for all, ranging from street food to the racecourses' array of exceptional restaurants.
Tickets for BUSTED will be on sale at 10am on Thursday 26th October via thejockeyclublive.co.uk, with a presale available to customers at 10am on Tuesday 24th October.
Sign up to access an exclusive presale. Buy during the presale window to book before anyone else and save £5.
SIGN UP FOR HAYDOCK PARK PRESALE
The Jockey Club Live will be hosting live concerts after racing at racecourses across the country including Sandown Park, Market Rasen, Carlisle, Newmarket, Aintree and Haydock Park in 2024. Keep an eye out for future announcements…